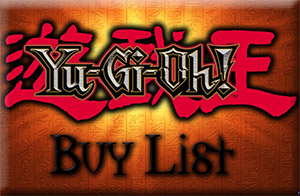 Our Yu-Gi-Oh trade policy:
50% for cash, 60%-75% for Store credit, and 80-90% for card for card.
We now have lists of what we do, and do not need for the store. This is a PDF file, and have what we will give you for each card. We can now have up to 2 of each card in the store (so more money for you if you bring in multiples that we need!)
We do not accept cards that are valued less than $1.00. When trading in, please make sure that the cards are from the corrosponding sets.
Our buy list features cards from certain sets we are looking for. Please note that we are only looking for these cards from these sets and can take up to a maximum of 2 of each. Please look at the above list, and know what you are looking for (Card for card, store credit, or cash).We have a limit per person per day -- We can only trade up to $50 for cash/store credit. Cash is limited to cash sales for that day -- as well as total trades per day. Card for Card does not count towards daily limits. Note: on busy days, or times when we have orders to receive, people who haven't looked at the buylist will not be traded with, or may be put in a 'queue' behind customers who have.
NOTE: New store policy dictates that you must present valid government ID when trading in cards for cash.
We update daily.
Our New REAL TIME BUYLIST
Click here for the Yu-Gi-Oh Buylist
*Card for card is only for Yu-Gi-Oh singles in the binders or the case.