Reward Point Program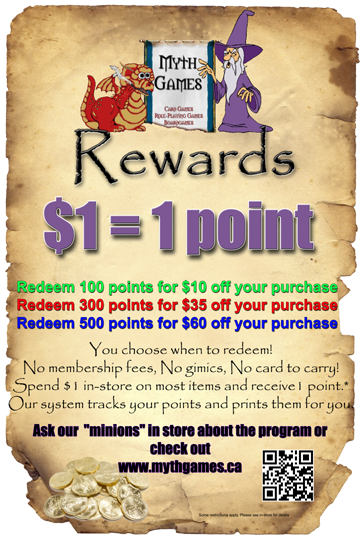 How it Works:
What we require from you: Your Name (First, Last), Your valid email address. (if your email address bounces we can suspend your points).
Earn Points:
Point system: $1= 1 point
Minimum purchase is $5.00 BEFORE TAX to get points.
Please note that though your points do NOT expire, your account CAN.
After 6 months if no use, your account will go into a 'sleep' mode. Another 6 after that, if there still hasn't been any use on the account, and it will be automatically deleted from our system!
All you need to do to make sure it doesn't is to come into the store and make at least one purchase on your account every 6 months or more!

Redemption:
100 points $10
200 points $20
300 points $35
500 points $60.00
Things that do not get points:
Event entry fees (leagues and special events etc)
LARP memberships and event fees
Consignment items
Snacks and Candy
Gift certificates and fees (on purchasing a GC, not redeeming it!)
Any item on discount (so Boxing Day, our Birthday deals etc)
No points when you redeem your reward.
Purchases on "Account" ie: Trade-In
Bonus points:
Wicked Wednesdays 1.25 points/$1.00
When a customer reaches

$1000 in sales, 1.15 points /$1
$2500 in sales 1.25 points /$1
$5000 in sales 1.5 points /$1
(For those customers that already have been in our system, yes, your previous sales count!)

We will have others.
If you have unsubscribed from our weekly emails, you are ineligible to gain or use your points! We can no longer re-subscribe you. You will have to fill out the following form: